as published in The Cleanzine on April 5, 2012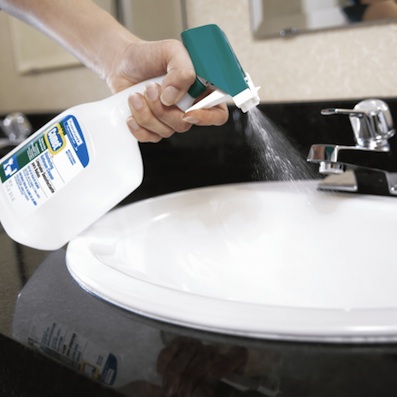 An incredible 68% of respondents to P&G Professional's recent 'Cleaning & Disinfecting Clarity' survey indicated that they believe that to clean and disinfect a surface, you have twice as much work on your hands. In other words, cleaning and disinfecting are two separate tasks.
This finding confirms what P&G Professional experts have observed and which they believe to be a common misconception… In fact, it was the perceived lack of consistency and observed misconceptions in the field over time, which led P&G Professional to commission this survey, which specifically targeted cleaning professionals, in an effort to help bring greater clarity to the industry and better educate staff and managers on the proper processes for surface cleaning and disinfecting.
Respondents even contradicted themselves across survey questions, highlighting the confusion that exists within the industry. For example, in contrast to the more than two-thirds (68%) of respondents who believe cleaning and disinfecting are two separate processes, less than one third (30%) indicated that they actually use two separate products – one to clean and one to disinfect.
"It's important for professional cleaners to remember that they must both clean and disinfect," says Tom Bell, registered sanitarian, Product Safety & Regulatory Affairs, P&G Professional. "Cleaning well allows disinfecting agents to work effectively. Ultimately, multipurpose products provide the best value because, when used as directed, they can do both in a single step."
The survey also highlighted the lack of process and procedure consistency as an issue for disinfecting and cleaning products. Tom says: "It is imperative that cleaning professionals follow the instructions on the product label – regardless of the brand of product being used. Different products have different 'dwell' times and dwell times also vary by the type of bacteria or virus being targeted.
"The manufacturer knows how to best use the product for optimal cleaning and/or disinfecting results. A simple spray and wipe will typically kill some germs, but we want everyone, whether they are our customer or not, to be as effective as possible at creating clean environments for their guests. We believe that following label instructions is one of the best ways to do that."
Says the company's Renee Buchanan: "Without question, P&G Professional is known for offering well-known brands and total cleaning solutions, but an additional value that we provide to our customers is a rich history of research and knowledge about proper and effective cleaning processes and procedures.
"We commissioned this survey to help us quantify any gaps in understanding and bring clarity to the industry for the betterment of all."
The reality is that buying individual, single-purpose products to clean then disinfect surfaces is unnecessary. For example, Procter & Gamble Professional's Spic & Span disinfecting all-purpose spray and glass cleaner cleans and disinfects mirrors, counters, and other dry surfaces in a single step, when used as directed. Similarly, Comet disinfecting bathroom cleaner cleans and disinfects wet surfaces in one step, when used as directed, without extra products to buy or use. This can save businesses the operational expense of labour time associated with multiple cleaning processes, as well as product costs associated with multiple purchases.
A potential secondary benefit to using one multipurpose product to both clean and disinfect surfaces is a simplified training process.
"We work hard to engineer complexity out of our products and provide the greatest value possible to our customers," says Tom Bell. "Multipurpose products that can clean and disinfect in a single step are arguably one of the best ways we can help our customers create their most efficient and effective cleaning programs possible."
T: +513-983-3713
E: vuturo.cm@pg.com
W: www.pgpro.com
22nd March 2012